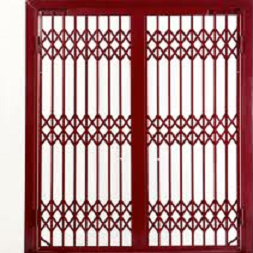 Πτυσσόμενα Κάγκελα
absolute security – impeccable aesthetics
Classical and longitudinal folding security door solution made entirely from solid galvanized and electrostatically painted steel, providing security both houses apartments, both in shops and business premises. It is the economic solution collapsible frame, with a minimum mounting width 40mm perimetrically, removable guide and pivotable 180 °.
Specifications

Double galvanized steel blades 20x4mm
Guide on galvanized W 55x30x55mm
User galvanized bottom II 40x30x40mm
Hinges for 180 ° rotation
Steel bearings fix 30mm
Stainless steel security lock 2 points
galvanized scissors
Galvanized stainless steel rivets
Electrostatic paint oven (all RAL colors)
Αποσπώμενες Μπάρες
absolute security – impeccable aesthetics
Characteristics:
Theft shield offer
Suitable for all types of windows and doors
Harmonious aesthetic result
full release Possibility of opening
Construction in all dimensions
ΑΣΦΑΛΙΣΗ ΕΛΕΥΘΕΡΩΣΗ ΑΝΟΙΓΜΑΤΟΣ
6. Τοποθετούμε τις μπάρες μία-μία με το ένα άκρο στην υποδοχή του ορθοστάτη που βρίσκεται η κλειδαριά και στη συνέχεια ωθούμε το άλλο άκρο στην αντίστοιχη απέναντι υποδοχή όπου συγκρατείται με τον ενσωματωμένο μαγνήτη.
7. Once all the bars placed, we lock that they can not be removed.
8. We apply the reverse process for the release of the opening.
specifications
9. Ορθοστάτες από γαλβανισμένη διαμορφωμένη ατσαλολαμαρίνα πάχους 1,5mm και διατομής 40x58mm.
10. Οι ορθοστάτες φέρουν οπές με πλαστικούς δακτυλίους για την υποδοχή των μπαρών και μηχανισμούς για τη συγκράτηση και το κλείδωμα των μπαρών.
11. Μπάρες από γαλβανισμένους σωλήνες Φ26mm και πάχους 2mm.
12. Οι μπάρες φέρουν εσωτερική ράβδο διατομής Φ16mm.
13. Plastic covers on the ends of the bars, one of which carries a magnet for securing the bar to the correct position for locking unhindered.
14. Κλειδαριά ασφαλείας με κλειδί το οποίο δεν αντιγράφεται.
15. Ηλεκτροστατική βαφή σε RAL αποχρώσεις.
FOLDING RAILS SAFETY FOTOGRAFIES
FOLDING RAILS SAFETY

FOLDING RAILS SAFETY

FOLDING RAILS SAFETY

FOLDING RAILS SAFETY